Last Chaos: Location of Poison Mist
This post is to show a location of Poison Mist in Last Chaos. There are many people coming to this blog, while they are searching to find the location of poison mists. Thanks to
www.statcounter.com
for providing me this information. So, to help those, I post here the location of poison mists. The screenshot below shows where the poison mists are: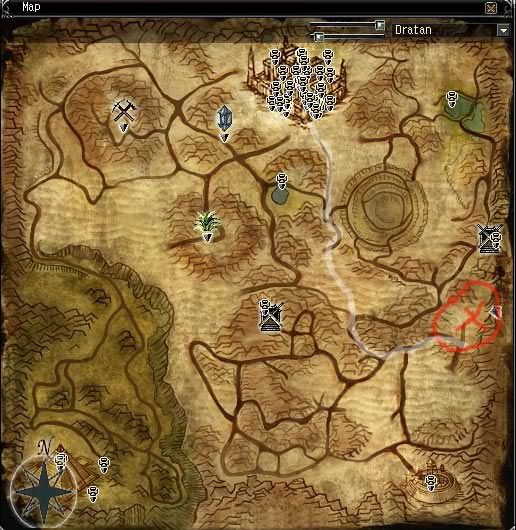 1. Press 'W' to open the map.
2. Drag the second slide bar(at the top) to zoom out and to view the full map.
3. Now, the area marked with the red line is where the Poison Mists are...
4. The white line marks the path from Draton town to the location of poison mist.
5. The approximate co-ordinates of this location are
2969, 1750
.
Note: There is also another area, where poison mists are located... But, I exactly dont know where it is. But will add it soon.
Poison Mists stats:
Level: 39
Type: Aggro
Non Equipment Drops:
1. Thick Liquid(Useless)
2. Mist Eye(for Scra-Ichi mission)
Equipment Drops:
1. Titan: Mighty Leggings (36)
2. Healer: Tranquil Skirt (36), Spirit Bow (37)
3. Knight: Glorious Leggings (36), Celestial Shield (37)
4. Mage: Chaos Skirt (36), Sparkles Staff (37)
5. Rogue: Rugged Pants (36), Great God Crossbow (37)
6. Sorcerer: Vortex Pants (36)
Production Manual Drops:
1. Level 41 Shield Production Manual
2. Level 42 Helm Production Manual
A Screenshot of Poison Mists: